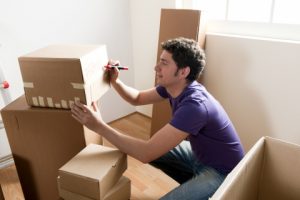 It finally happened. They accepted your offer and your dream of owning your first home is actually becoming a reality.
You couldn't be more ready to start a new chapter of life in a new city, but then it hits you: You're planning a long-distance move!
It's at this point that many people find their excitement giving way to apprehension, especially if they've never made a long-distance move before. There are many challenges that make an out-of-city or out-of-state move different from a local move, which is why it's so important to work with long distance movers who are experienced in tackling them.
Whether you hire long distance movers or choose to go it alone, here are some tips that will help you stay sane during the big transition!
Downsize ASAP
At some point during every long distance move, there comes a point when everyone says, "Where did all this stuff come from?!" What seemed like just a few rooms full of belongings can quickly turn into dozens of fully packed boxes unless you downsize first.
Months before your long distance move, take some time to inventory the items in each room in your house. If there are items that are broken or haven't been used in more than six months, it's time to let them go! Donating or throwing away these items before the moving day arrives will make your long distance move go that much smoother.
Start Collecting Boxes Now
Without the help of a professional long distance mover, it can be difficult to estimate how many boxes you'll actually need. We recommend buying at least a dozen more than you think, because it's better to have too many than too few. Remember, Out of the Box Moving Solutions offers moving box delivery services so you don't have to stop cleaning or packing just to get your hands on some more boxes!
Devise An Organization System For Your Belongings
When it comes to a long distance move, you can never be too organized. Whether it's labels, color coding, or some other organizational structure, it's important to come up with a system for finding the things you need when everything is unloaded and placed into your new home. You might think that writing "Kitchen" or "Closet" is enough, but how will you know which "Kitchen" box has the coffee maker you so desperately need on your first morning in the new place?
Keep these tips in mind when planning a long distance move, and we promise that you'll feel less stressed from start to finish. And if you'd rather not be bothered with any of the heavy lifting of your move, contact us for complete long distance mover services!